Searching for the best writing tool? There is no better tool than Grammarly. Here is an unbiased Grammarly review to know its better.
With the help of Grammarly, you can make your content error-free and very easy to understand.
It uses AI to make your writing work easier.
If you are a blogger, writer, or any other type of person who needs to write in English then you must need this amazing tool Grammarly.
Is Grammarly better than other grammar checkers, proofreading, and plagiarism checker tools?
Does Grammarly show accurate data?
Is buying Grammarly premium the right choice?
Let's find out the answer to all the questions that come to your mind.

A few years ago I did not know about Grammarly, so I had to hire other writers and proofreaders, which cost me a lot of time and money.
After that one day, I came to know about it and I started using it, ever since then I use it. I check all my articles with the help of Grammarly. It has made my work very easy.
So here is a Grammarly review 2022, which will help you to know more about this amazing tool.
Which types of people should use Grammarly?
People whose mother tongue is English and those who do not speak English, both types of people should use it.
Here is a list of people who must use Grammarly.
Copywriters
Authors
Academics writers
Blog writers
Bloggers
Any professionals and many more
Both people who are new writers and those who are professionals should use Grammarly as it helps to make your content even better.
You can change its writing settings to American English, Australian English, British English, Canadian English, and more.
With the help of Grammarly, you can increase the quality of your blog post, book, or article. This makes your content easy to read and error-free.
If you are a student then you should use it to make your assignment, projects, and more.
I recommend you to buy Grammarly premium to increase the quality of your content.

What can Grammarly do?
Grammarly is a very excellent tool in which you can do all the work of writing.
Grammar checker
This tool automatically detects all grammar and punctuation mistakes and you can correct all these very easily. Grammarly tells you about Grammar Mistakes and also tells you how to correct them.
Spelling checker
Grammarly automatically detects all the spelling mistakes and you can easily correct them with a click. 
Readability checker
This can show real-time readability and tone of voice with its advanced artificial intelligence. You can edit your content with real-time insights like sentence length, readability score, and many more. This will help you to make your content more engaging and crispier.
Plagiarism checker
There is an advanced plagiarism checker in Grammarly which shows plagiarism percentage by doing a comparison of your content to billions of other web pages across the internet.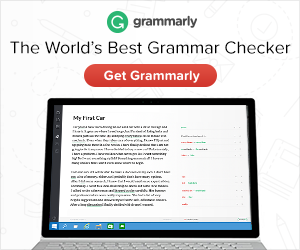 How does Grammarly work?
After creating your free Grammarly account this will be redirected to your dashboard.
There are lots of writing features that make your writing clear, easy to understand, engaging, and precise.
You can also change its feedback setting according to your writing style. When you click on the new document I recommend you set your writing goals.
Set your goals based on:
Audience (general or professionals)
Style (informal or formal)
Domain (technical, business or academic)
Emotions (strong or mild)
Intent (describe, storytelling or inform)
You can use Grammarly in many ways like use it with google docs, in the Grammarly dashboard, and more.
Ways to use Grammarly
1. Copy and Paste
You only need to copy your article, extract or book and paste it into Grammarly for spelling checking, proofreading, and grammar checking.
2. Importing
You can also import your MS word document into Grammarly. Click on the Import button for this.
3. Grammarly document
You can edit your content into Grammarly. As soon as you start writing your content, it will start giving you suggestions. With this, you can fix writing errors with a single click.
4. Grammarly Plugin
There is a Grammarly plugin available for both mac and windows. This plugin works with almost all writing platforms like MS word, Google Docs and etc. there is a beat version for Google Docs. you don't need to do anything for using its beta version. After installing its plugins it automatically shows 'use beta version'.
Grammarly Plagiarism checker
There is an advanced plagiarism checker to make your content plagiarism-free. It uses AI to detect plagiarism by comparison your content with other billions of web pages.
This is very useful if you are a blogger, content writer, and etc. use this tool to make your content unique. You can easily remove or edit your plagiarised content in Grammarly to make it original.
This tool is also useful for students who want original content for their projects.